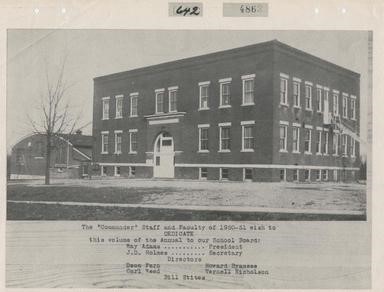 History of Creal Springs

From the very beginning, Creal Springs, as it is named today, was destined to be a place of fame. Beginning as just a point on the Le Grande Trace early in the 18th century, to a booming resort community at the turn of the 20th century, Creal Springs has been a history-making place.

Some say that a Frenchman, named Philippe Renault, was the first white man to visit the area. He came in approximately 1720 enjoying even then the sulpher springs at a blaze marked tree on the Le Grand Trace. The Le Grand Trace ran between Kaskaskia and L 'Assension or Fort Massac. Sulphur Springs was a French trading place and later it became a small hamlet or community on this trail. During those early years, it was known by it's French name, Eau Mineral (Mineral Waters) before getting the name of Sulpher Springs. Other knowledgeable historians give early settlement credit to the Spaniards. It is believed that a party of four traveling east may have camped at the old stone fort in Saline County. Legend goes on to say that a Spanish cannon filled with gold coins is supposed to be buried near the old fort. Visit there and you could find the strange carvings on an old rock which are supposed to indicate the location of the still missing and buried cannon of gold. An old surveyor, Nimrod Perrine, once documented that the oldest house in Williamson County was a Frenchman 's hut at Eau Mineral or Sulphur Springs. This structure was still in use during the booming resort era of the late 19th and early 20th centuries. The first American cabin was built by Gideon Alexander in 1822. A post office was built in 1846, followed by a blacksmith, several merchants, and three doctors within a very short period. Two of the doctors operated drug stores where they dosed their patients with sulpher water.

A few years later Edward Creal and Dr. Curtis Brown began to exploit the curative natures of the springs on Creal 's property. Within only four years the curative nature of these spring waters had enticed several hundred health seekers to visit his location. As more people came, a new community developed and prospered thereby causing Sulpher Springs to be relocated and renamed. The post office in Creal Springs was dedicated on February 8, 1883. Sulpher Springs became a subdivision of the new town.