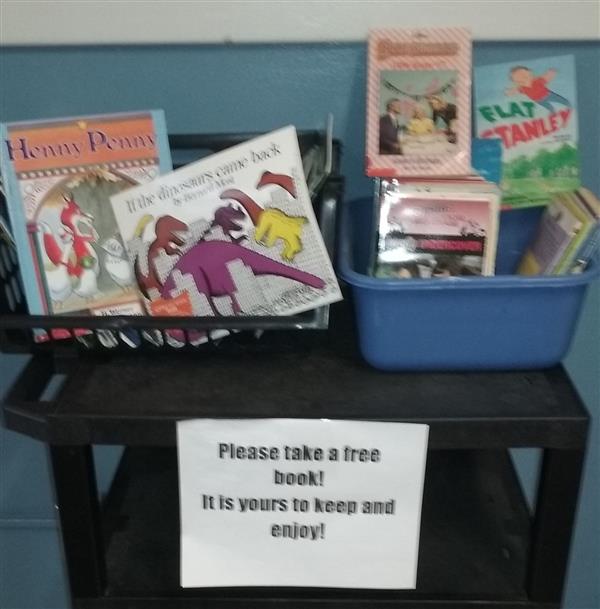 Please keep reading and learning!
Longfellow Elementary Students and families,

You are missed more than you know! We were having so much fun this year! The Wildcat Reads program was off to a great start! We only had a few books to finish reading before voting. Unfortunately, we are going to suspend the program until next year. It makes me sad, but there are so many students who don't have access to a computer that it wouldn't be fair for us to vote without them.

Going forward, I want to make sure that all of our students have the chance to keep reading. I have made a bin of paperback books that are available at our Russell Street entrance during meal pick up. If you stop by to get a grab & go meal between 11 a.m. and 12:30 p.m. Monday, Wednesday and Friday, you may select and take a book to keep! No need to return the books, they were donated to our library, and I can't think of a better way to put them to good use!

Also, for those of you with an internet connected device at home, I would be happy to add you to my epic! classroom. If your student is already a member of Longfellow's Homework Club, or participated in the Who Was History Bee this year, they are already a member.

If not, please just email me at ktreece@marionunit2.org and I will add them to my classroom then reply to your email with our classroom code. Epic is fantastic, it is the leading digital library site for kids 12 & under, and has over 35,000 of the best books, learning videos, quizzes and more!

Many of our beautifully and durably bound library books are produced by a wonderful company called Bound to Stay Bound. They have taken the time to make a great "landing page" that keeps a lot of the great learning resource links we are hearing about online in one place.

Please use this link:Educational Resources! to their page. Even if you don't feel like reading today, I encourage you to take a virtual museum tour, play some games at Brainpop, watch a video about a new animal on National Geographic, brush up on your science knowledge with Bill Nye, learn to draw with Mo Willems (the author of the Elephant & Piggie series, Knufflebunny, and those cra-zy Pigeon books!) or let Lauren Tarshis (the author of the I Survived! series) read to you.

I hope that everyone gets the chance to appreciate a little extra time with their families. Everyone grows and changes at such an extraordinary rate, it's important to remember that each day we spend together is a gift.

If you or your student need anything, please do not hesitate to reach out. Again, my email is ktreece@marionunit2.org. Even an email to let me know what you're reading or learning would be welcome!